Customer Strategies
Customer profits and potential
An effective customer strategy creates full transparency on your customer potential and revenue. It lets you prioritize the desired customer experience and makes it simple to document the value of your customer initiatives so you can easily balance action and returns.
A customer strategy should answer and show how your company can improve its performance through an enhanced effort on the following areas:
Segmentation and prioritization of customers so you don't have one strategy for all customers but one for each segment
Definition and prioritization of customer experiences in relation to the segments
Potential clarification of the existing customer base: What are the internal as well as the external perceptions of Share of Wallet, basket size and/or penetration?
"Cost to serve" (sales costs, extra logistic costs and/or discounts) for each customer and segment
Revenue loss from each customer loss
Costs of recruiting of new customers
Case: Potential estimate with Share of Wallet
In the example below we used Share of Wallet aggregated in relation to customer segments.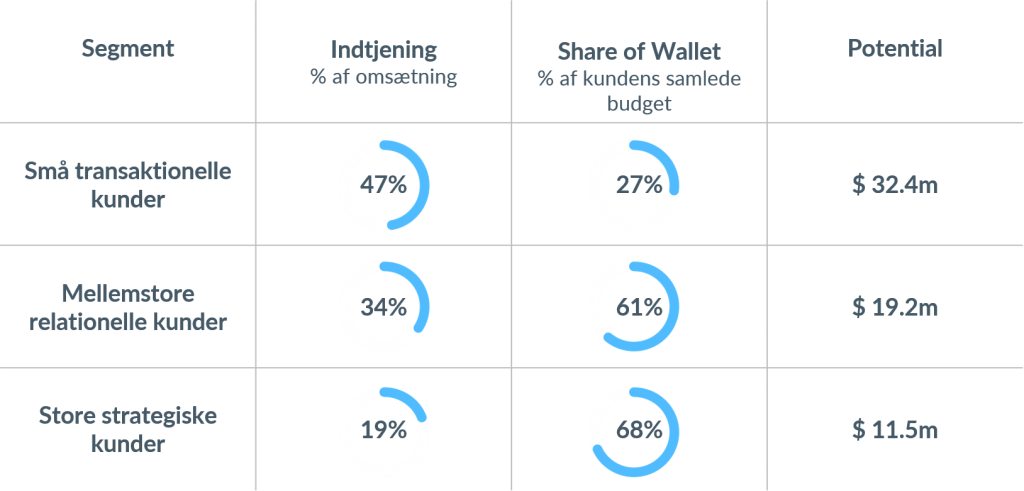 The revenue potential often varies across a customer base. This means that an overall average potential estimate typically wouldn't be useful. An overall average doesn't catch the important different preferences between customers and the entire market. Unfortunately, this is often overlooked when the customer base is analyzed, which can lead to inappropriate prioritizations.
ag analytics apply a large range of methods to potential estimates. We involve frontline employees, customers, market analysis, statistical methods and publicly accessible sources. We also use both quantitative and qualitative methods to find the right solution.statistic methods and public accessible sources. We use both quantitative and qualitative methods to find the right solution.