Customer Strategies
Customer Experience Management
The concept of Customer Experience Management means that the customer experience is centrally rooted in your company and that you continuously follow up on customer feedback.
Overall customer feedback is used for continuous strategic development that supports the customer experience so it is transformed from a coincidental transaction into a secure process with ongoing actions and follow up. The challenge is to design customer experiences based on an ideal goal and then use the goal to measure how aligned the company is with a differentiated customer experience.
ag analytics has the following focus areas and recommendations in relation to designing and managing the customer experience:
The customer experience goal is continuous strategic development. Realizing its potential consists of designing the best customer processes and getting frontline employees to deliver on them.
Analyze your value chain and limit surveys to the most important – the relation, transaction or the process.
Results should be highly accessible and it is crucial that all frontline employees know exactly what their customers think and feel.
Focus on the real opinion and how to be active rather than the individual score.
The diagram below shows our practical approach to working with surveys as well as ensuring optimal action is taken.
Customer experience management: Continuous strategic development and frontline meaningfulness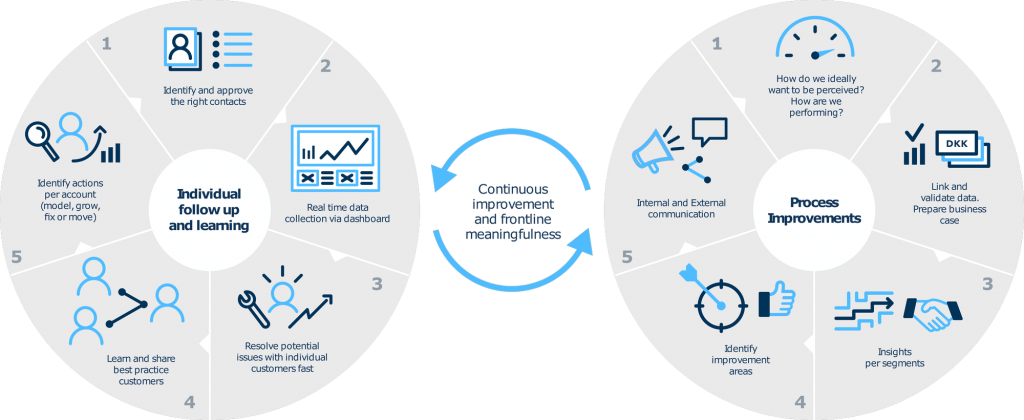 At ag analytics we strongly believe that transparency is a key aspect of customer experience management. This means ensuring that everyone across the organization receives customer feedback.
Transparency is created by the following actions:
Frontline employees approve those who are contacted and/or participate in the process of selecting which customers to ask.
Feedback is received immediately and simple rules of action are set up regarding what to do and on which levels.
All responses are forwarded to the right employee, not just the negative ones.
One way of achieving this is by providing simple and continuous access to answers on the phone.