AG ANALYTICS ⨉ VOLKSWAGEN GROUP SWEDEN
Improving satisfaction across 200+ retail locations
Volkswagen Group Sweden dealers improve customer satisfaction with new CEM system from ag analytics. The system gives sales and service advisors personalized recommendations to improve their scores
A solution that spans across 75 locations and 3,000 employees
Volkswagen Group Sweden (VGS) and ag analytics today announce a partnership to deliver a customer experience management (CEM) solution supporting dealers in improving their customer satisfaction.
From January 1st 2021, the system has been available to all VGS dealers in Sweden, covering 75 locations and approximately 3,000 employees. The CEM solution supplied by ag analytics supports sales and after-sales processes across all group brands – Volkswagen, Škoda, Audi, SEAT, Volkswagen Commercial Vehicles and Porsche.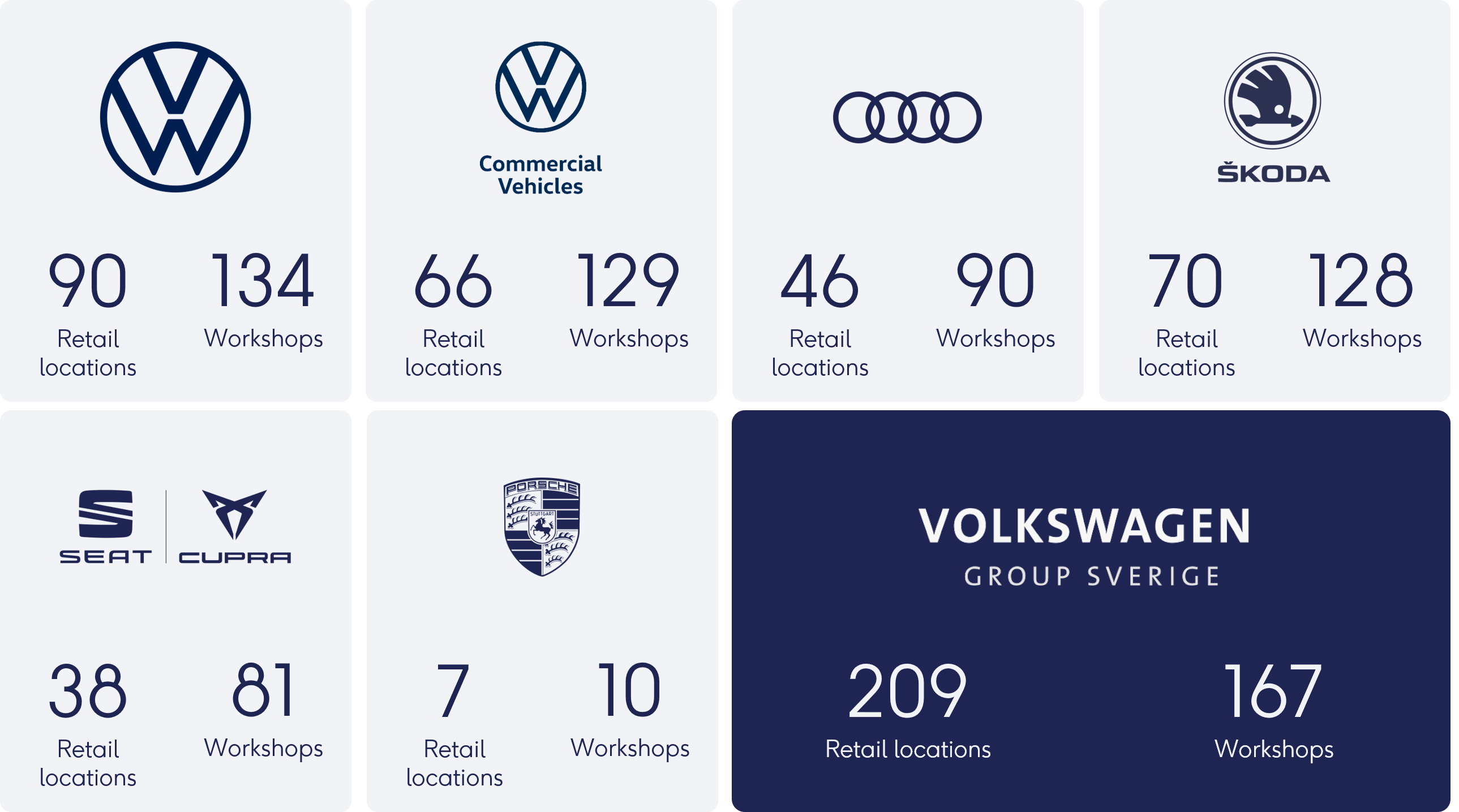 --- What is remarkable about the system is that it gives sales and service advisors personalized actions to improve their scores.
Louise Westman
Director of Aftersales & Dealer Development
Audi Sweden
The agreement follows a competitive tender among five suppliers and a two-year pilot project with Audi Sweden including 15 dealers.
Leading the project at Audi Sweden, Louise Westman, Director of Aftersales and Dealer Development, said:
"It's been a great collaboration with dealers and ag analytics, resulting in a significant improvement in overall customer satisfaction. Having satisfied customers is what will make us survive in the future, for two key reasons.
Firstly, back in the days, the focus in the automotive industry was primarily on selling units. And for a long time we have forgotten the most important thing: the customer. If we invest in making the customer satisfied, and provide good service when they come to the workshop, we can ensure an upward revenue stream in the future, because that customer will be more likely to buy again from us.
Secondly, competition in the automotive industry is not merely based on our products. The products and the services we sell in this industry are largely similar. Instead, what makes an automotive brand special is how we handle the customer experience.
For us, customer satisfaction is the backbone of every process – rather than something sales and service advisors get a bonus for. It doesn't matter whether you work in a customer-facing role or in finance: when you come to work, you should always have the customer in mind. Therefore, it was crucial for us to have a system in place that helps the dealers handle satisfaction in the most pragmatic way possible.
The previous systems that the dealers across our network used revealed relevant metrics, but didn't show what to do to improve those KPIs. What is remarkable about the system provided by ag analytics is that it gives sales and service advisors personalized recommendations to improve their scores. You don't simply get a number. Rather, you know what things you need to improve upon to move the needle. That's the biggest strength of the system.
The team at ag analytics is as flexible and pragmatic as the system itself. They are living and breathing the system. They have tailored their solution to our dealers, unlike a typical software vendor who sells you their system without becoming invested in your needs.
The overall feedback from dealers has been very enthusiastic so I'm excited that the system will soon be available to all VGS dealers and brands."
---
User survey
During the pilot with Audi Sweden, 53 users from 15 dealers provided feedback on the new ag analytics system compared to the current system.
On a scale of 1 to 5, how do you evaluate:
The collaboration with ag analytics? 4.89
The portal's speed and reliability? 4.77
The ease of locating improvement areas? 4.70
The portal's user-friendliness? 4.68
The ease of finding your results? 4.67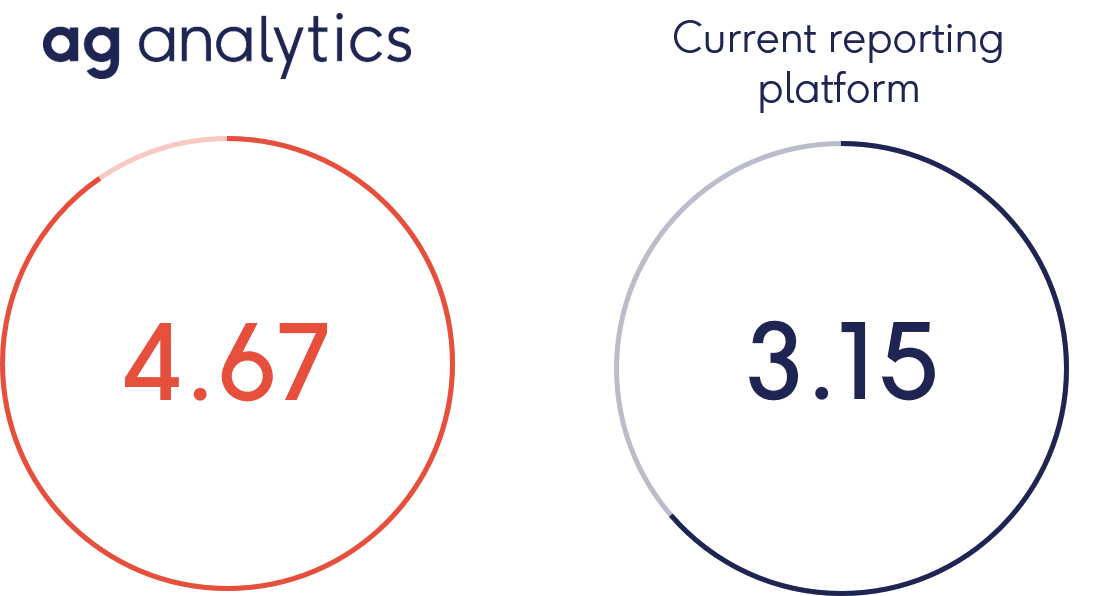 Our Audi customer satisfaction scores have outperformed the other brands where we use the old system.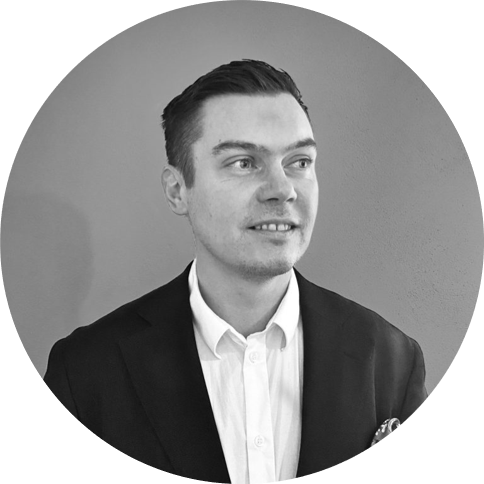 Jonas Billström
Head of Aftersales
Engströms Bil
Watch the full interview >
Jonas Billström, Head of Aftersales at Engströms Bil, one of the dealers participating in the pilot, said:
"After an 18-month collaboration I can say it's a great system. It allows us to evaluate the different steps in the customer journey and see which ones have the most impact on overall satisfaction. The system gives us quick answers on how to improve scores and empowers advisors to get better at their jobs without management intervention. The old one didn't enable us to be proactive. It didn't provide the analytics and we didn't have the time to do it ourselves.
Employees have found the system highly motivating overall. Other CEM systems only focus your attention on unhappy customers. On the other hand, ag analytics gives employees recognition for every happy customer, which makes using the system a positive experience. This way, advisors can build up longer and longer streaks of consecutive 5-star customers, which we celebrate in our meetings. Many of our employees have even shared their achievements on social media.
As a result, our Audi customer satisfaction scores have outperformed the other brands where we use the old system. We're happy that Volkswagen Group Sweden will provide ag analytics across all brands from 2021. By improving our customer satisfaction, we expect to strengthen our customer loyalty and word-of-mouth recommendations." We get the answers we need and the data is trustworthy.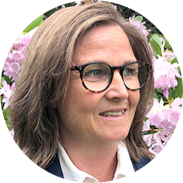 Carina Ahlberg
Head of Customer Experience
Volkswagen Group Sverige
Carina Ahlberg, Head of Customer Experience at Volkswagen Group Sweden, explains the group's decision to support dealers with the new system:
"Our vision is to be a customer-centric organization across all brands and touchpoints. Our strategy is to invest in tools and partnerships that support our dealers in delivering on that vision. We are moving towards a culture where the desire to satisfy customers is primary, rather than an optional extra incentivized by bonuses.
A big challenge related to system adoption in the past has been to make people want to work with customer experience. Thanks to ag analytics, dealers use the system not to get their bonus, but because they are genuinely interested in what the customer thinks and says.
The new system supports dealers in delivering on our mission by making it easier, more fun and rewarding. We want our customers to feel well taken care of, which we can support by helping sales and service advisors to feel confident in how to meet the customers.
The dealers are very happy with the system. They have even started sharing their successes on Social Media. One aspect they really appreciate is the positive reinforcement that the solution offers. Our service teams don't just want to receive "hot alerts" and be notified for the things they are doing wrong. They want to be rewarded when they perform the desired actions.
It's a great partnership with ag analytics, who listen to us and adjust to our needs so we can better support the dealers. We get the answers we need and the data is trustworthy." Our mission is to help dealers lift customer satisfaction in a way that's rewarding for their employees.
Nicholas Malcolm
CEO
ag analytics
Commenting on the shared goals of the partnership, Nicholas Malcolm, Managing Director of ag analytics, said:
"Our mission is simple – to help dealers lift customer satisfaction in a way that's rewarding for their employees. Across the sales and aftersales flow, we reinforce desirable habits and help create new ones that will improve customer satisfaction and the advisors' own job satisfaction.
On a practical level, VGS dealers will now be able to consolidate five CEM systems into one, and standardize questionnaires and reporting across brands. This will make it easier and quicker for advisors and managers to get visibility on current status and perform their tasks. We look forward to supporting all VGS dealers and brands in raising their customer and employee satisfaction and meeting their goals."
ag analytics ⨉ Volkswagen Group
At ag analytics, we have been working with the automotive industry for the past 10 years. Since 2016 we have created partnerships with Volkswagen Group brands in the Nordics, starting off with Škoda in Denmark. From 2020 and onwards ag analytics has been appointed the stand-alone CEM reporting and fieldwork provider for the Danish market.
We have been working with the Danish brands since 2018, but from the beginning of 2020 we are the only solution that the importer, brands and dealers have access to. Since we are already a stand-alone provider, we comply with all CEM reporting and fieldwork requirements determined by Volkswagen AG.
---
Turn your CX scores into actionable insights
Learn more about Autoflows Customer Experience
Learn more >