AG ANALYTICS ⨉ PORSCHE DENMARK
Ensuring Strong Competitiveness through Superior Customer Experience
Focusing on core customer processes to deliver fast and significant results
Porsche Denmark is known to be the exclusive distributor of Porsche in Denmark. However, the competition within the lucrative luxury car market is intensifying due to attractive leasing opportunities and imports via other countries. In order to compete, Porsche Denmark was aiming to be perceived as the right "Porsche Approved" choice. Collaborating with ag analytics and focusing on core customer processes, has helped deliver fast and significant results.
Firstly, it is important to comprehend how vital the customer experience is to Porsche Denmark. Due to the prestigious perception of the brand itself, customers don't merely expect to buy a vehicle. Instead, they buy into every exclusive aspect of having a Porsche. The need to constantly verify the legitimacy of this perception of Porsche is therefore key to the customer experience approach. Because of the narrow customer segment and the risk of customers placing their money elsewhere, delivering the whole exclusive package continues to be vital to Porsche Denmark. Wanting to keep up customer loyalty, it was important to understand that the value of the product lies in all the factors evolving around it.
However, working towards guaranteeing an exclusive customer experience led us to a surprising discovery. As it turned out, the processes driving a premium customer experience are founded in the same processes driving the customer experience across other brands. The premium experience is, like every other product or service, easily translated into simple customer jobs, pains and gains. In our experience, any great customer service requires a system that enables employees to do a good job. Therefore, these following two parts are crucial to any good job-execution:
Doing the job right the first time
Having a plan in place to deal with any inconveniences or customer pains We have ambitious CEM goals in the sales and service process, to make sure we utilize the full customer potential. ag analytics has helped us with designing a CEM program that includes data-driven action plans and guided recommendations to the employees to make sure we meet our goals and deliver top ratings every single time.
Christine Jelved
Head of Porsche Denmark
And so, customers always have specific expectations when buying into a brand. All customers require good service, which includes both accurate information regarding delivery as well as attentive service follow-ups. However, Porsche customers expect an outstanding experience every time due to the perception of the brand. Delivering on simple processes at a high level and guaranteeing a superior customer journey, therefore support the brand promise. At the end of the day, all customers seek getting their job done in the most pain-free and effective way possible. Well-functioning processes therefore ultimately add to the collective exclusivity of Porsche Denmark, and furthermore ensure customer loyalty.
Understanding the approach required, allows us to help continue the great results Porsche Denmark has achieved and guaranteeing a premium customer experience. Since initiating the collaboration in 2017, Porsche Denmark has exceeded in delivering on a great sales experience. Today Porsche Denmark has reached an impressive CEM-score of 4.89 and continues to work towards creating customer for life. This underlines that focusing on a few but crucial customer jobs, indeed is the way to create great results.
Porsche Denmark's CEM Score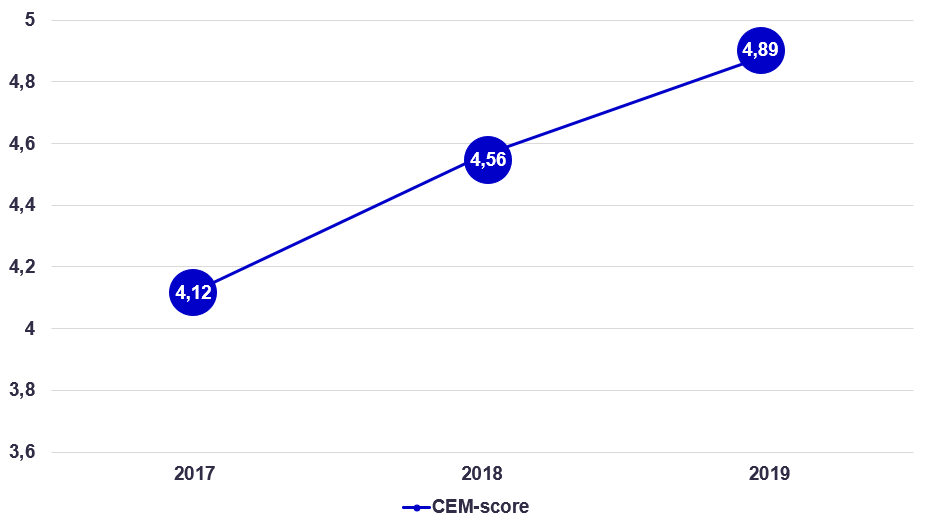 Turn your CX scores into actionable insights
Learn more about Autoflows Customer Experience
Learn more >