Employee Research
Frontline Pulse Survey
Frontline Pulse Survey is a tool to examine "the state of things" after an employee test is done. By following up specifically on frontline employees you secure important knowledge, not just on your employees, but also on your customers. By responding to the answers of your employees, you create a better customer experience and ensure greater employee engagement.
Frontline Pulse Survey lets HR ask direct questions to your employees with daily customer contact. It allows them to follow up on initiatives that have been implemented to improve employees' well-being and find out more about how customers view the department.
We often see a strong divergence in the well-being of employees across the department. Even though you may have a high overall average, some parts of the department can get a low score. The example below shows how an average was pulled up by a high level of management engagement, while the employees who had contact with customers had a fundamentally very different perception of reality.
Figure 1: Frontline employees have the lowest engagement.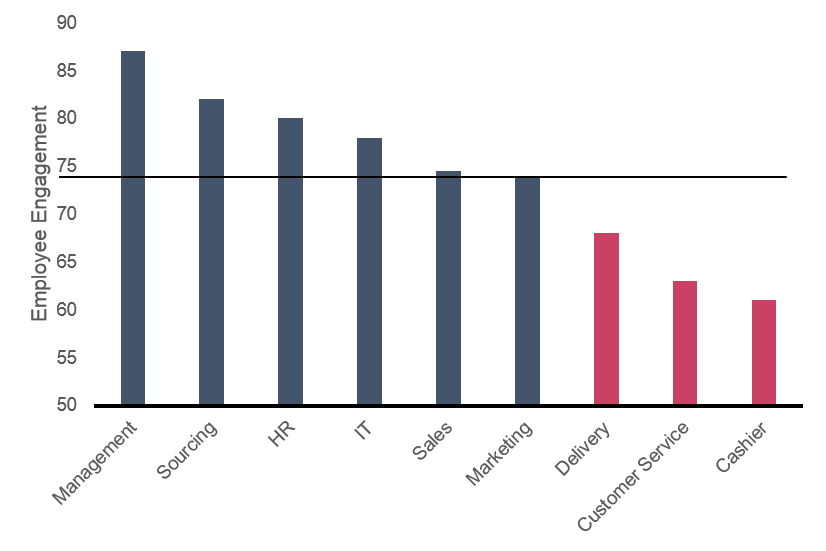 Frontline Pulse survey gives HR substantial and highly valuable knowledge about the state in each department. This makes it possible to execute fast shifts in strategies on the basis of input from the Frontline Pulse Survey. With this agility, you don't just make employees more satisfied, but you ensure that customers get the intended experience.
By implementing Frontline Pulse Survey you can achieve:
Continuous measurement of the engagement of frontline employees
Status on whether former initiatives have the desired effect
Targeting of initiatives and questions to relevant employees
The link between results and the customer experience in the department